At the heart of every blockchain community lies essential tools for participation and financial empowerment. Wallets are one of the tools that serve as a gateway and backbone to the ecosystem- allowing users to store, transfer, and stake their assets. There are many wallets available for Cardano users, each with different features, advantages, and limitations. In this article, we'll take an in-depth look into Eternl, one of the popular wallets among users in the Cardano community.
An overview of the Eternl wallet.
Eternl is a lightweight Cardano wallet that was launched in May 2021 by CCVault.io, a company that provides secure and user-friendly crypto solutions. Since its inception, Eternl's mission has been to establish itself as one of the major Cardano wallets by implementing features requested by the Cardano community. The team behind the TITAN and AHL stake pools developed and maintains the Eternl wallet, which supports over 100,000 active users weekly. Eternl is a fully open-source project that welcomes developers' contributions and user feedback.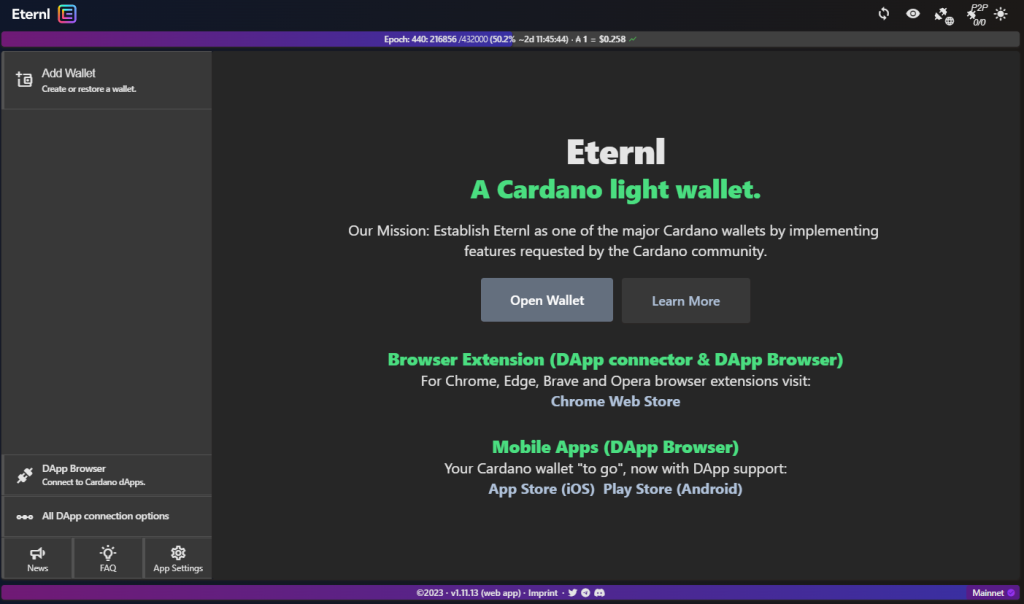 Eternl is available as a web app, a mobile app (iOS and Android), and a browser extension (Chrome, Edge, Brave, and Opera). Users can access their wallet from any device and sync their data across platforms. As a light wallet, Eternl does not require downloading the entire blockchain but instead connects to a remote node. The wallet supports sending and receiving ADA and native tokens, delegating ADA to stake pools. Through its browser extension and mobile app, users can connect to DApps (decentralized applications), allowing them to interact with smart contracts and other features on the Cardano network.
Features of Eternl
The Eternl wallet provides a wide range of features and capabilities, including:
Support for ADA and native tokens. Users can send and receive ADA and other native tokens on the Cardano blockchain, such as NFTs or stablecoins.
Support for staking. Users can delegate their ADA to one of over 3000 stake pools and earn passive rewards for securing the network.
Support for DApps. Users can connect to various DApps that offer various services, such as gaming, lending, swapping, or voting. Eternl has a built-in DApp browser that allows users to browse and interact with DApps directly from the wallet.
Support for browser extensions. Users can install Eternl as a browser extension for Chrome, Edge, Brave, or Opera, and use it as a DApp connector or a DApp browser. This enables users to access DApps from any website that supports them, such as CardanoCube or Project Catalyst.
Support for mobile platforms. Users can download Eternl as a mobile app for iOS or Android, and use it as a portable Cardano wallet with DApp support.
How to Use the Eternl Wallet
To use Eternl, users can either access it through a web browser or download a browser extension or a mobile app. Users can choose from a list of existing wallets or create a new one by entering a name and a password. Users can also import an existing wallet by providing the recovery phrase. Here are the steps to use Eternl wallet:
Visit https://eternl.io/.
Choose your preferred platform (browser extension or mobile app).
Click on "Open Wallet" or "Learn More" button.
Install the wallet.
Create a new wallet or restore an existing one.
Set up your password and recovery phrase.
Connect your hardware wallet to access your funds (if any).
Start using your Eternl wallet.
Using Eternl is simple and intuitive. Users can create a new wallet or restore an existing one using a 24-word recovery phrase. They can also import or export their wallet data as a JSON file for backup or migration purposes.
Once the wallet is set up, users can see their balance, transaction history, and asset portfolio on the dashboard. They can also send, receive, and swap ADA, NFTs (non-fungible tokens), and other native tokens on the Cardano network. Eternl supports QR codes, address book, and custom fees for transactions.
Users can also stake their ADA to a pool of their choice and earn rewards for securing the network. Eternl provides information on various stake pools, such as their performance, fees, pledge, and social media links. Users can delegate their ADA to any pool with a few clicks and change their delegation at any time.
For more detailed instructions, you can follow through this video tutorial by Casually Cardano:
Comparing Eternl with other Lightweight Wallets
Eternl is one of many Cardano wallets available in the market, but how does it compare with other popular options? This section compares Eternl to other popular Cardano wallets:
Eternl vs. Daedalus: Daedalus is the official full-node wallet that supports ADA, native tokens, staking, and DApps. It is a desktop application that requires users to download the entire blockchain. Daedalus was developed by IOHK, another founding entity of Cardano. Daedalus has more features than Eternl, such as multi-signature transactions, smart contract deployment, and voting registration. However, Daedalus may be less convenient than Eternl for some users, especially those who want a fast and mobile wallet.
Eternl vs. Yoroi: Yoroi is another light wallet that supports ADA, native tokens, staking, and DApps. It also has browser extensions and mobile apps. Yoroi was developed by EMURGO, one of the founding entities of Cardano. Yoroi has more features than Eternl, such as hardware wallet integration, multi-account management, and custom token creation. However, Yoroi may be less user-friendly than Eternl for some users, especially beginners.
Eternl vs. Nami: Nami is another light wallet that supports ADA, native tokens, staking, and DApps. It is a browser extension that allows users to access DApps from any website. Nami is developed by Berry Pool, a Cardano stake pool operator. Nami has features similar to Eternl but does not have a standalone web wallet, a DApp browser, or mobile apps. However, Nami may be more compatible than Eternl with some DApps, especially those that use Plutus smart contracts.
While Eternl is faster, lighter, and more convenient to use, it also has some limitations, including:
Reliance on third-party nodes for blockchain data – If the nodes are offline, slow, or compromised, users may experience delays, errors, or security risks.
Lack of advanced features. Eternl lacks some features that more sophisticated Cardano wallets, such as Daedalus, offer. These include multi-signature transactions, custom token creation, or smart contract deployment.
Minimal customer support on some channels – While their Discord server is the main support channel for issues and quick questions, Eternl could do a better job at supporting customers on other channels.
Looking forward
The Eternl wallet has made significant updates to its features and functionalities over the past months. In the recently closed Catalyst Fund 10, Eternl's core team submitted a proposal to help them run a reliable, efficient, customized server infrastructure for the wallet. Their proposal made the cut and received overwhelming votes from the community. The team is set to receive 553800 ADA, which will help them maintain a high-performance wallet with minimal downtime and maximum availability for users around the globe.
The funding also comes at a critical time when the Eternl team is working towards improving the wallet experience with an impending release of the V2 wallet.  Previous releases, especially the notable v1.11, laid a solid foundation for the design and release of V2 with a significant overhaul that included smart chaining, reduced memory usage, rapid synchronization capabilities, and a more compact database.  If you'd like more information about Eternl updates and release notes, please check out their News section.
With its community-driven approach to feature development and implementation, Eternl is undoubtedly one of the most promising wallets for Cardano users. You can learn more and stay updated with Eternl by checking out their official homepage and Eternl profile on X (previously Twitter.)