NuNet is a decentralized platform of computing providers, which will seek to provide access to distributed storage through partnerships with specialized projects in the Web3 space, in the AI market.
It is a computing framework that provides globally optimized and distributed computing power and storage for decentralized networks, connecting the owners of data and computing resources, with the computational processes that demand these resources, in an intelligent interoperability layer. In this way, the latent computing resources of the community in the global computing network will be used intelligently.
The NuNet infrastructure will enable the exploitation optimization of AI processes, interfaces and data within the global network, and establish machine-to-machine data transmission and payment channels, thus minimizing global computing costs and enabling new business processes for the Data Economy and Internet of Things.
Owners of computing resources, such as personal computers and laptops at home or in the office, IoT devices, mobile phones, etc., will be able to publish their specialized capabilities foroffer them to the processes that need them through diverse ecosystems.
NuNet will provide access to the infrastructure to deploy published AI services to the SingularityNET marketplace, expanding to other partnerships over time. SingularityNET is a decentralized AI marketplace that is powered by the blockchain.
The NuNet platform will be open source software. Initially, the NuNet team will build all of the network components as well as use case integrations for specific uses and business models, but the ultimate goal is to provide a set of open APIs for community developers and developers to use. Solution providers can build their own solutions and incorporate them into the network, thus providing a continuous evolution of technology.
Following the interim report from the auditors, several areas for improvement have been identified to guarantee the security of the platform.
The team decided to launch Public Alpha on the Cardano Testnet in April 2023, Tweet.
The platform will self-regulate the interactions of three types of network participants: providers of data, computing, and AI services, consumers of data and computing (using AI, code, and algorithms), and network operations agents.
Network operations agents will ensure the correct and timely provision of services from the decentralized peer-to-peer network, confirmation of executed processes and correct compensation of services for each service provider based on their preferences, and work done.
In most simple cases, the processes that will operate on NuNet may be single, standalone computational processes, intended to run in isolation, in which case NuNet will only provide the appropriate computing power and data sources, for these simple processes to run in isolation. can be completed taking into account cost constraints. However, the processes themselves may also be participants in several different decentralized networks, with their own characteristics and ecosystems.
In the latter case, NuNet performs what is called a Market Meta Economy (MME), a mode of operation, which the team believes will become increasingly valuable in the coming years as the "network of networks" aspect of the emerging decentralized economy move from concept to reality, with increasing adoption and interoperability of decentralized computing networks (eg SingularityNET).
NuNet MME will be supported by network operations agents using, among other mechanisms:
A native token (NTX), interoperable and compatible with tokens and other value exchange mechanisms, and
A governance paradigm aimed at establishing enriching collaborations between humans and AI agents in an open, heterogeneous and globally connected infrastructure.
The Roadmap
The NuNet Platform will operate in 2 evolving areas, Web3 applications and Industry 4.0 applications.
Currently, NuNet is focused on applications Web3 and is developing a lightweight open source platform that enables the integration of distributed computing technologies (CPU, GPU, storage, data) in a decentralized and scalable network. Allowing anyone to contribute to the network and be rewarded through blockchain technology.
Web3 Roadmap

Industry 4.0 is transforming the way companies make, improve and distribute their products. Manufacturers are incorporating new technologies such as the Internet of Things (IoT), cloud computing and analytics, and AI and machine learning into their manufacturing facilities and operations.
Industry 4.0 Roadmap
At the moment its development is like this: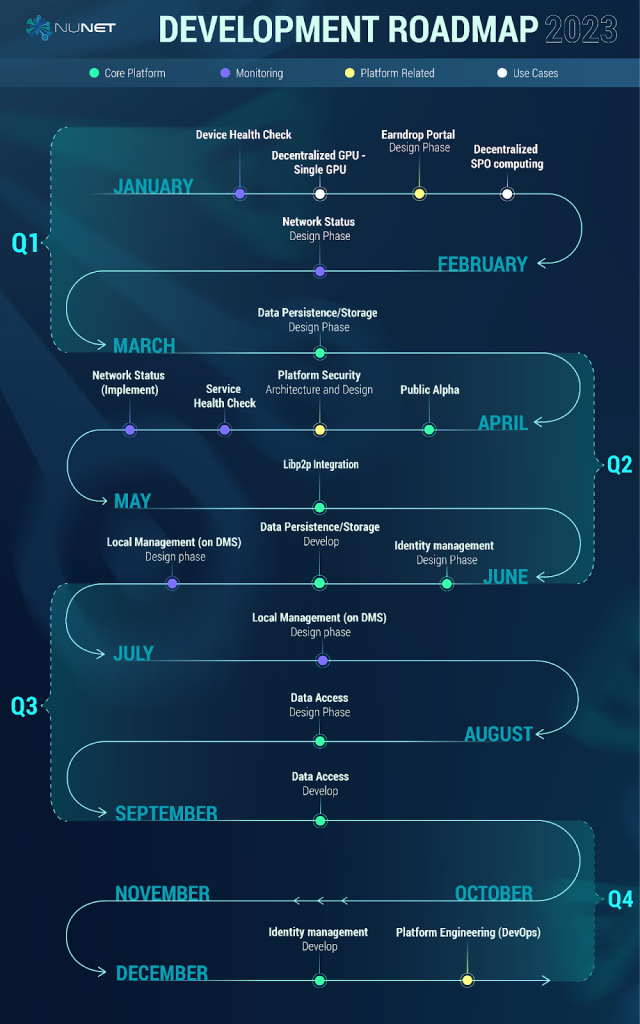 The Tokenomics
NuNet Token (NTX) is the platform's native utility token, and the team's proposal is to impulse the global economy of decentralized computing.
The NTX token provides access to computing resources and services through the NuNet platform and ultimately settles transactions between all components of a computing workflow provided through NuNet.
It is important to distinguish two aspects of NTX tokenomics: external tokenomics and network tokenomics. While the main function of the NTX token is to power and facilitate transactions between the constituents of the network, the NTX token also has an external aspect that exposes it to the cryptocurrency markets and allows users to purchase the token for immediate use, or later, on the platform.
Ticker: NTX
Total supply: 1 billion
Tokens distributed at launch: 300 million NTX
NTX Tokens offered to Community Supporters Round: 100 million
Contract: source code & audit report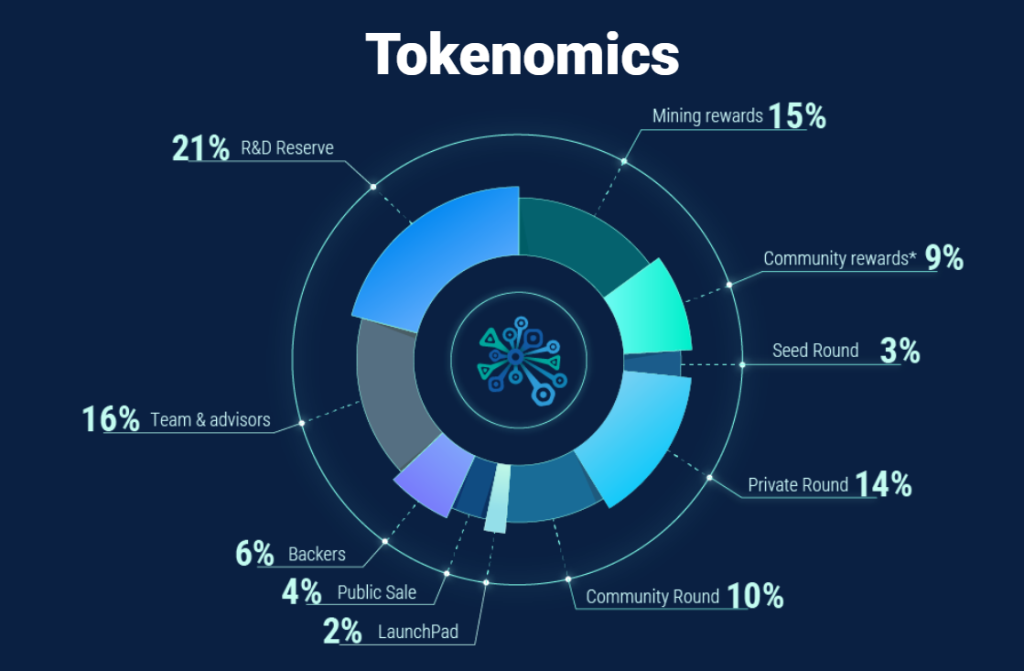 NTX is designed to be a multi-strand utility token from the start. At the Token Generation Event, NuNet minted 1 billion NTX tokens on two blockchains:
631,250,000 NTX-ETH tokens (63.125% of the total supply) on Ethereum
368,750,000 NTX-ADA tokens (36.875% of the total supply) on Cardano
To keep the total supply of tokens constant at all times, at 1 billion,NTX-ETH and NTX-ADA will be convertible at a 1:1 ratio, allowing holders to choose which blockchain they wish to use, similar to SingularityNET's AGIX token.
Writer's Note: 399,255,761 $NTX are registered on the Cardano blockchain, under the Policy ID edfd7a1d77bcb8b884c474bdc92a16002d1fb720e454fa6e99344479
NTX Trade:
In March of this year, NuNet delivered its first financial report to its community, outlining NuNet's key achievements in 2022, development roadmap update, and since-operation financial overview: NuNet Financial Report 2022 and Outlook for 2023.
In the past two months, NuNet has run a second Earndrop campaign to support staking and decentralization on the Cardano network. This involved rewarding users for holding NTX on a Cardano wallet and delegating to selected unique stakepool operators.
The Team
NuNet is a spin-off of the SingularityNET Global AI Marketplace, which has been operating since 2017. NuNet has been incubated through the SingularityNET X-Lab Accelerator program since early 2018.
Technology development and early use cases of the NuNet platform will be geared toward, but not limited to, the computing infrastructure of SingularityNET's decentralized AI agents.
The members of the team are not published on the website, but I found information about them in LinkedIn.
Links: https://www.nunet.io/links