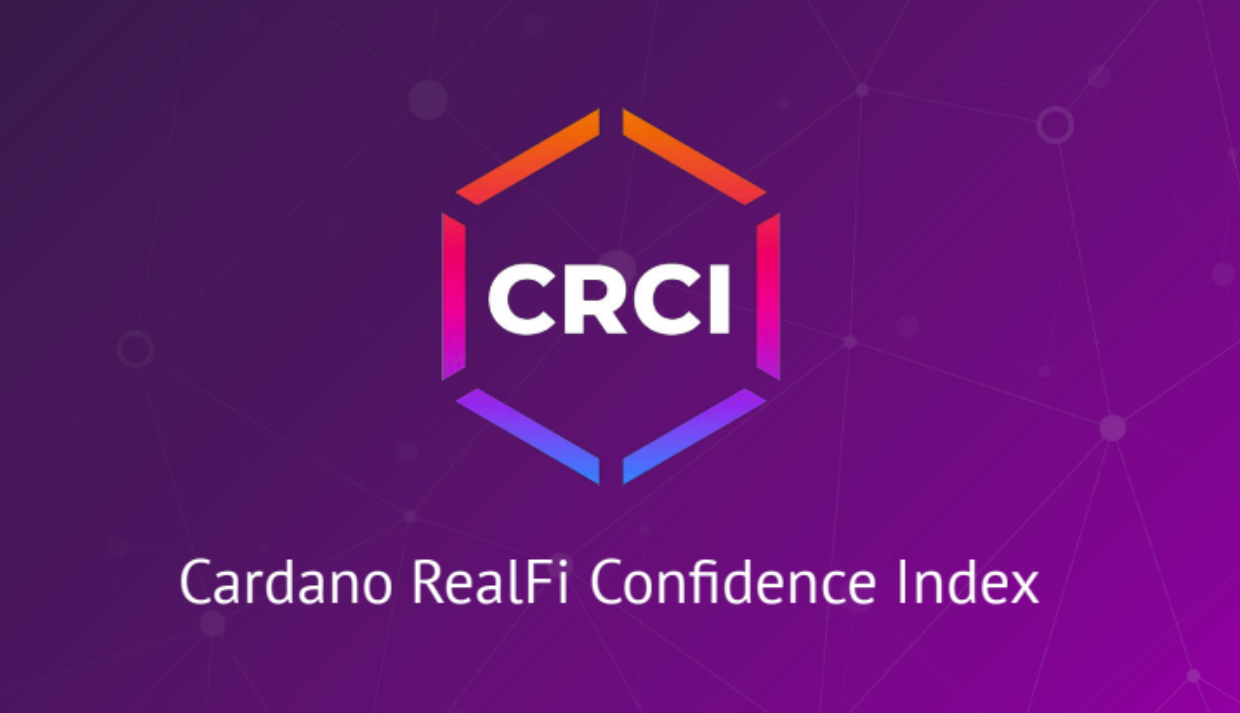 There is a whole new world of decentralized finance that's making its mark on the mainstream, allowing each of us to participate in trustless systems at our own discretion. When individuals embrace the power of having full control over their financial destiny, many find the new opportunities both exhilarating and overwhelming.
IOG's John O'Connor describes RealFi as: "an ecosystem of products that remove the frictions between crypto liquidity and real-world economic activities to offer attractive yields to crypto holders, and cheaper credit / financial products for real people."
There are countless geniuses pursuing the goal of bringing blockchain's utility to the masses. Sadly, many (if not most) of the exciting 'opportunities' coming to Cardano will leave participants with less value than they started with. We must each do our own research – – by doing so, we hone our personal ability to evaluate an endeavor's potential for success.
Alright, I want to do my own research, but where do I start? The Cardano RealFi Confidence Index (CRCI) provides a jumping off point for your journey into this wild territory and delivers a structured system for analyzing the multivarious factors that contribute to a project's triumph (or failure) in the Cardano ecosystem and the world beyond.
Origin
The CRCI is a brainchild of RJ, who was kind enough to do an interview for this article.
I asked him a simple question: Who are you?
"I go by RJ and I've been active in the Cardano community since early 2018. I watched Phillipe's earliest Youtube videos on Cardano before he and Rick created the Cardano Effect Podcast. I was present for the Parson's/Guardians era, so I've seen a fair bit of the Cardano community evolve over time.

I've built a couple Cardano educational tools such as the Cardano Mind Map which was a fully interactive mind map of the Cardano Ecosystem. It was made mostly on information from Charles AMA's and official IOHK sources with links to every component. I also created the Grand Ultimate Cardano Staking guide which I produced in 9 different languages.

I have a degree in Classical Studies (History), which taught me a lot about how to read one side of a story to try to figure out what is true and important about it. Since history is written by the winners, you must pay attention to what isn't said, just as much as what is said, to try to get a true picture of what happened. I think this is very applicable to doing research in crypto, where we don't usually have access to a lot of information, so we have to look critically at everything we can to figure out what we think we might be missing.

I'm a very conservative investor but like many that enter crypto, I've made investment mistakes based on fear of missing out. I've built a research approach that helps capture and rate the metrics that mean the most to me. I'm a very hard sell."

RJ of CRCI
What is the CRCI?
The official overview is available here:
CRCI Overview v1.1.pdf – Google Drive
The stated mission is to "review each DeFi project's capacity to communicate, execute and provide their solutions with transparency while keeping user protection and Cardano ecosystem health as priorities." To achieve this, a scoring system has been developed with a focus on succinct and easily understood documentation, as well as consistency and repeatability.
According to RJ, "The system is built on a first principles approach from the ground up."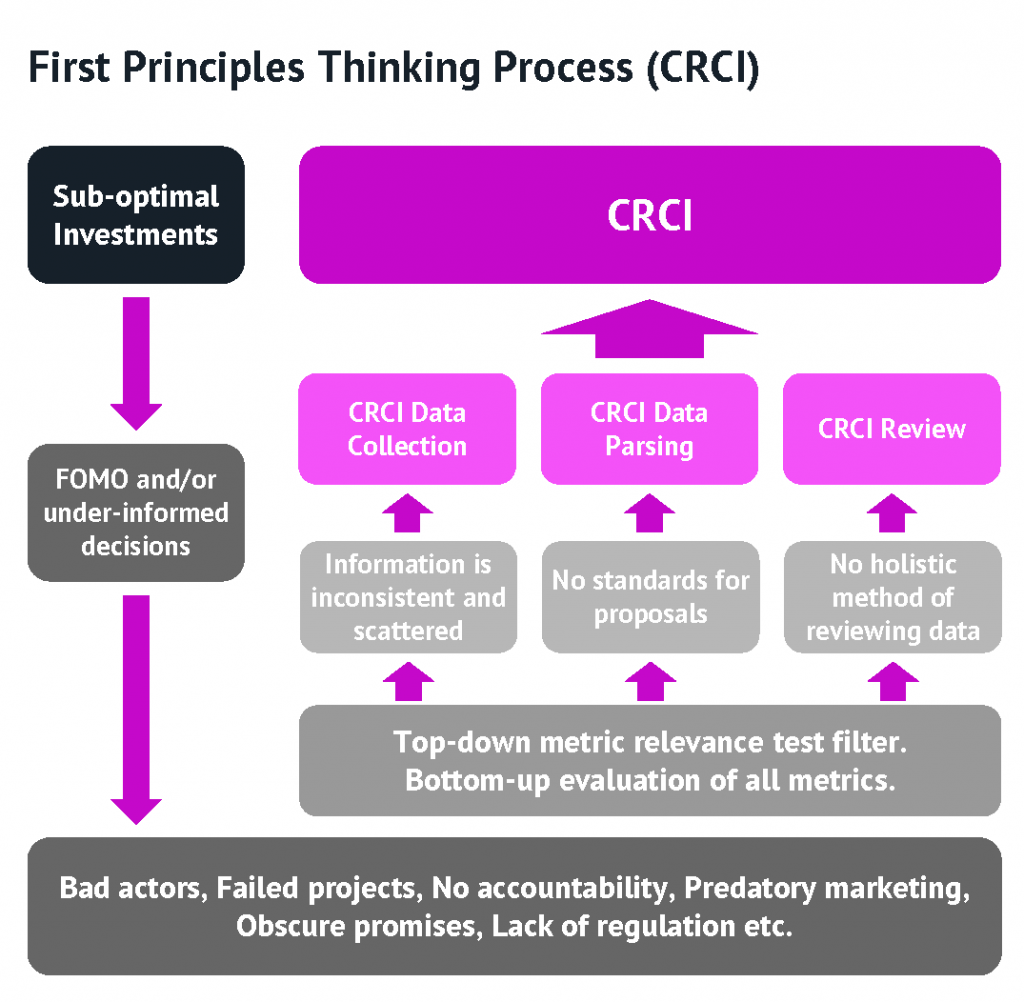 Metrics
The index uses a 'relevance test' for every scoring metric; does it have a measurable ideal to use for reference and would its absence be perceived as detrimental to the projects mission statement? A set of nearly 30 relevant metrics are grouped accordingly:
1. Social Engagement
Does the project have quality content on their social media accounts? Are they present and engaging with the community?
2. Whitepaper
Is there a whitepaper with clearly defined problems and in-depth solutions with feasible paths to completion?
3. Tokenomics
Where are the tokens being allocated and on what schedule? What do the token's use cases and value proposition?
4. Team / Developers
What is the level of professionalism of the team? Do they have the expertise required to execute their stated goals?
5. Audits / Track Record
Have there been audits of the code? What's the projects track record? Is there substantial evidence of work in the public GitHub repo?
6. User Protections
Is the UI of the platform clear, with a commitment to protecting users from unintended actions?
7. Industry Accolades
What is the projects reputation? Has it received accolades from the Cardano ecosystem and beyond?
8. Cumulative Demerits
Project failures are recorded here. CRCI specifies this as "any activity, behavior, misrepresentation, lack of transparency or clarity that may either intentionally or incidentally misdirect or undermine the platform participants, the Cardano network, or the Cardano community."
Review Setup
There are three steps to establish a CRCI score: data collection, data parsing / review of project content, and application of points and demerits.
A project's review score is shared with the community in two forms, Full Review (comprehensive) and Review Summary (condensed).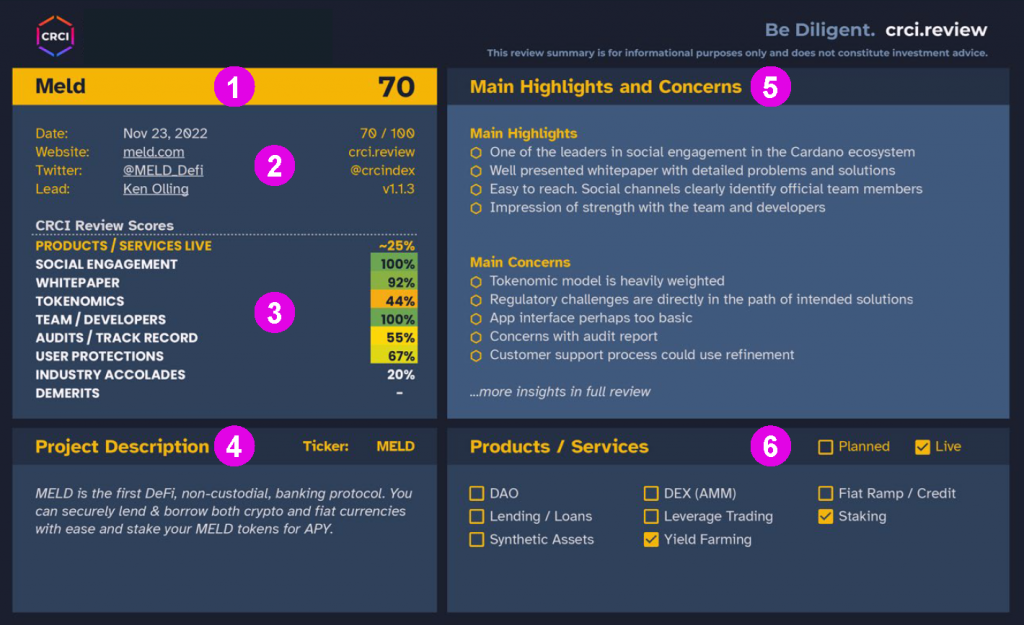 The Cardano RealFi Confidence Index is also developing an original visual representation of the relative positioning of Cardano projects with the CRCI Matrix.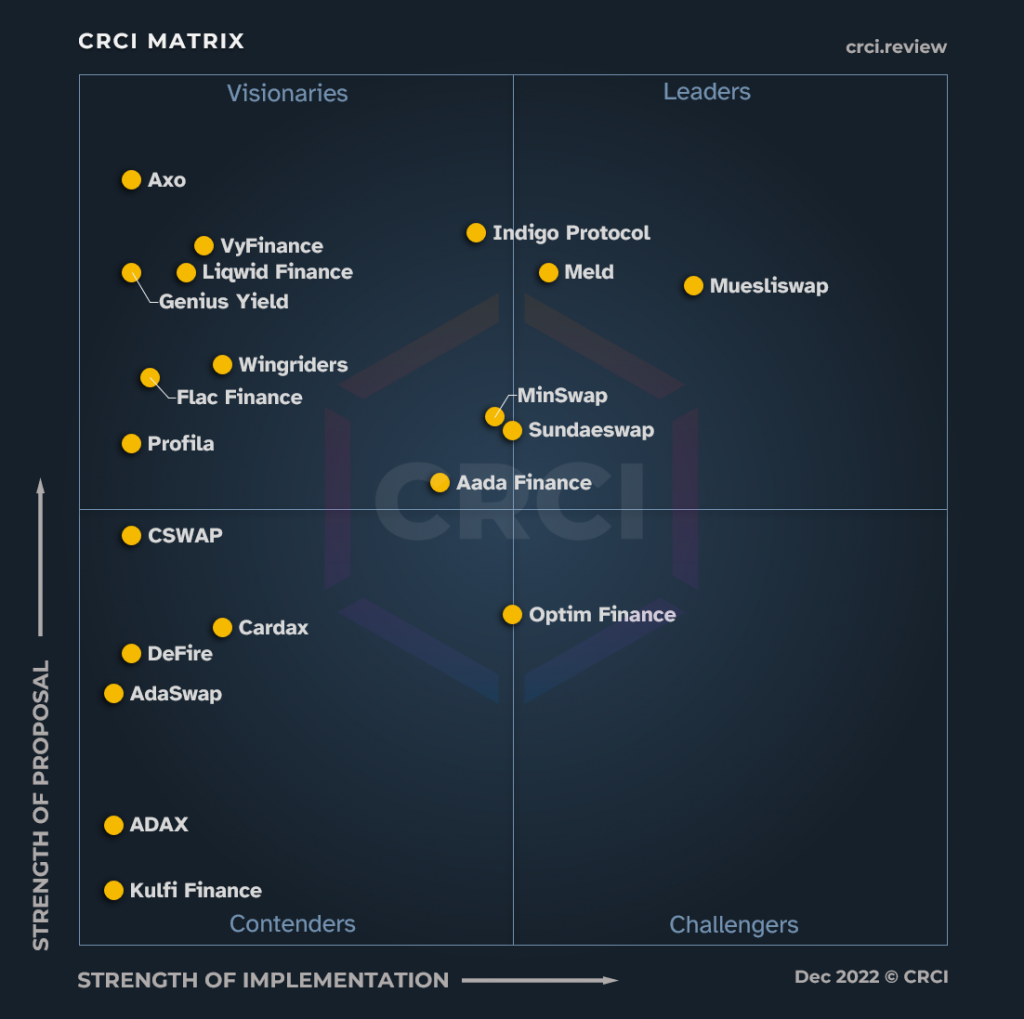 Striving for a Carefully Measured and Intentional Review
By carefully considering each specific value and balancing it against related metrics, CRCI is being assembled to "offer the most holistic value possible to the score."
Not Financial Advice
The content contained in the CRCI is "for informational purposes and does not constitute investment advice of any kind, nor an offer to provide investment advice." The CRCI is a tool meant to aid each of us in our own unique investigative journey into Cardano's ecosystem.
What is Success?
The Cardano RealFi Confidence Index is looking for people who're passionate about "Cardano, RealFi, DeFi, due diligence, research, reviewing DeFi, process architecture, analytics, etc." to help contribute to the ongoing improvement of the review methodologies.
I asked RJ how he defines success for this endeavor:
"That's a great question. For me part of the success is in the journey. I have a formula for reviewing DeFi where I have structure, accountability, and history of what most people tend to do only in their heads. I do not make any claims or assumptions that the CRCI is a perfect system. I like to think however, that it's an ideal process. Success for me would see evidence that the approach proves to be meaningful over time and be considered one of the most thoughtful and relevant research approaches in the entire cryptocurrency ecosystem. Along the way I'm learning a lot, enjoying the process, and accumulating domain specific expertise so I have a lot of value to add to our ecosystem, which I already consider a success. That said, I have a lot of ideas and a lot of ground to cover. I would love to connect with like-minded people in our ecosystem that would like to join the effort."

RJ of CRCI