In April of this year, IOHK announced a partnership with the Ministry of Education of Ethiopia. The initiative will establish a national ID and attainment recording system for five million students throughout the country marking the largest blockchain deployment to date. The announcement was met with a degree of fanfare and attracted coverage from City A.M. , CoinDesk, and others.
Unsurprisingly, cutting-edge technologies are at the center of this and other infrastructure plays across the continent of Africa. For instance, the Ethiopian ID system will rely heavily on Atala PRISM, an identity and credential verification platform built on top of Cardano. Although under active development, IOHK content creator David Orr summarized the scope of the project:
"Much like how we store our credit and ID cards in our wallets, Atala PRISM is like a mobile wallet for all your important documents."
He continued:
"You might be familiar with the ability to log into third-party services using your Google or Facebook account. Atala PRISM will allow you to do something very similar, but instead of using an account owned by somebody else, you have total control and ownership over what information is shared."
Essentially, Atala PRISM leverages decentralized identifiers or DIDs. These persistent online identifiers are decentralized, cryptographically verifiable, and resolvable, making them ideal for accessing social programs, medical services, and more.
Decentralized Identifiers
Anyone who has used the internet knows the burden passwords place on users. Proper management requires unique passphrases for each account, providing friction for integrated experiences. Sure enough, this issue stems from the difficulty of securely and easily verifying identities online. DIDs are one approach to a solution with the backing of prominent players like IBM and Microsoft.
Although Atala PRISM incorporates the standard, DIDs are not unique to the Cardano ecosystem. Instead, The World Wide Web Consortium, W3C, has been developing a specification over the last several years. According to the consortium, DIDs allow individuals or other entities to generate identifiers while maintaining cryptographically verified control. Moreover, individuals and entities can create as many DIDs as needed and scope each identifier to particular use-cases, thereby minimizing information leaks. All of this occurs outside the purview of a centralized authority.
On their website, W3C describes the structure and function of DIDs and their supporting architecture.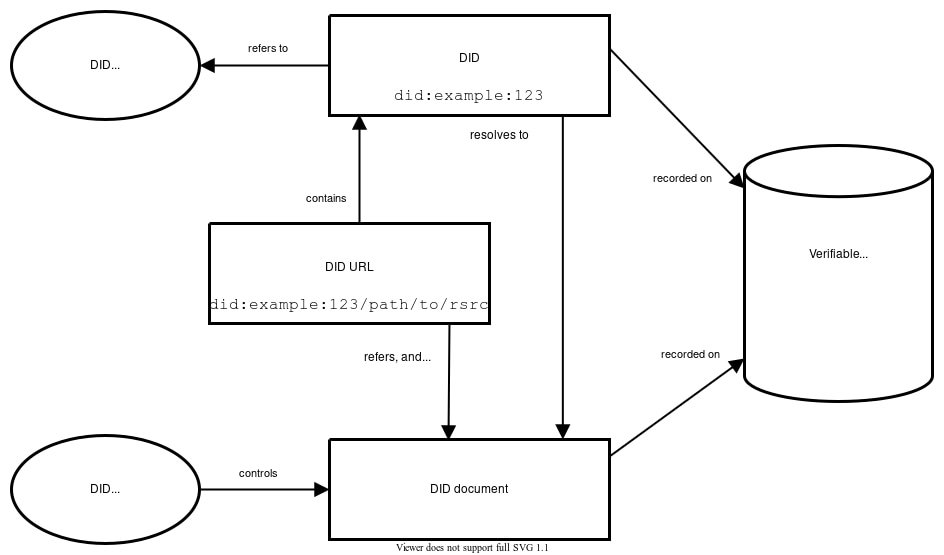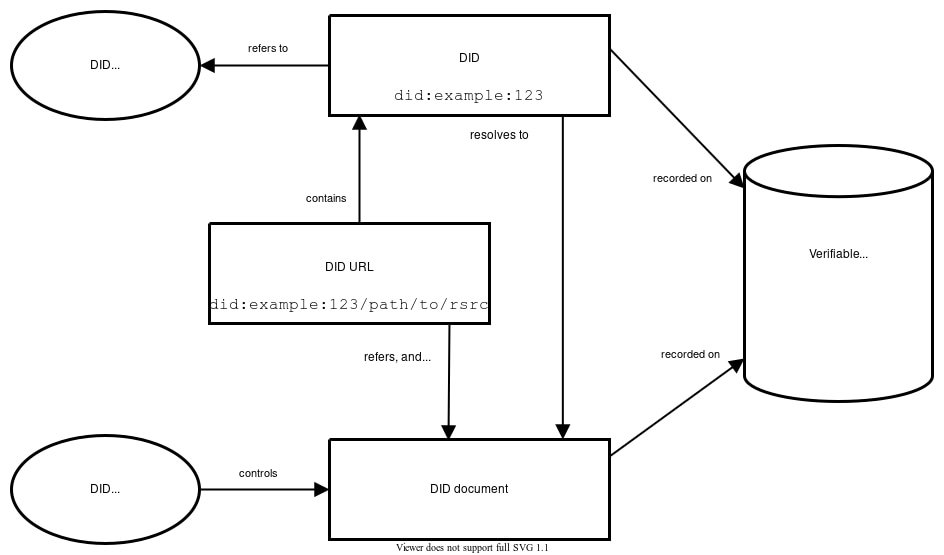 At the heart of the system is the DID document. This item contains data that describes the public cryptographic keys, pseudonymous biometrics, and other methods that an individual or entity can use to authenticate itself. A DID document describes information in JSON and may also contain attributes describing the relevant entity.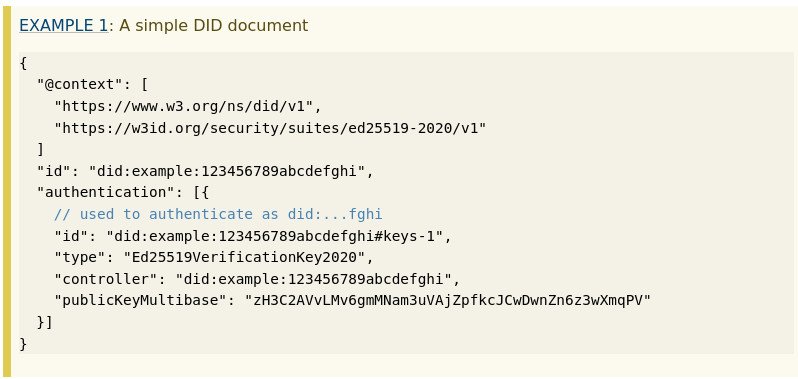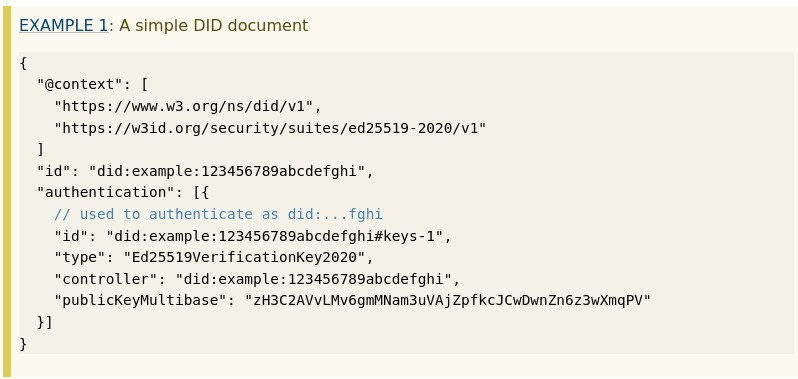 On the other hand, DID controllers are the entities or individuals that can make changes to a DID document using cryptographic keys. Several DID methods allow the controller to enact changes, update the DID information, or otherwise interact with the data structure. DID methods also describe how authentication methods are used and allow usage of controller properties if present.
Use Cases
On the surface, Atala PRISM and DID products suggest several compelling use cases. Unsurprisingly, the utility of these applications lies in the technology's ability to replace current ID schemes worldwide, which typically rely on central authorities.
One pertinent use case lies within device onboarding. For IT technicians, securely connecting a device to a network such as a local WiFi can be complicated and time-consuming. Multiple devices can be simultaneously connected, however, this requires they share the same key, which can be a security hazard. However, DIDs and public key infrastructure may replace these pre-shared keys and help grant network access with less effort.
IOG and associates have furthermore suggested Atala PRISM will become an integral aspect of financial services in the Cardano ecosystem. In the April Africa Special, IOG Chief Product Officer Dynal Patel noted:
"Atala covers a whole range of layer two solutions from credentialing, track and trace solutions, and product authentication…Smart contracts will enable further opportunities like the creation of decentralized insurance and lending providers that are able to compete at lower price points and provide services that are more equitable for everyone."
Finally, W3C suggests several DID use cases on their website, including transferable skills credentials, digital permanent resident cards, product guarantees for online shopping, and more.
Proposal Details
Project Catalyst is the world's largest decentralized innovation fund. Since beginning operations in September 2020, it has already provided millions of dollars in ADA to numerous developers throughout the ecosystem.
Most proposals on the platform center around entrepreneurs and talented individuals looking for initial funding. As such, Catalyst organizes funding efforts around specific issues by setting fund challenges. Fund challenges include scaling DeFi, utilizing metadata, and more.
Atala PRISM DID Mass-Scale Adoption is a challenge setting proposed for Fund 7. The proposal recognizes the potential of Atala PRISM to act as a gateway for users into the Cardano ecosystem. As such, the initiative looks to foster projects leveraging the identity platform. More importantly, the proposal sees DIDs as a crucial innovation towards enabling a self-sovereign online presence and personal ownership of identifiable information. It proposes providing $250,000 in ADA towards this challenge.
Interested voters should note that, as a community challenge, the Atala PRISM DID Mass-Scale Adoption proposal lacks a team, budget breakdown, and a concrete road map typical of other proposals. Instead, it is simply a way for the community to express interest in providing future funding towards a particular goal.
That said, voters can support the challenge in the upcoming Fund 5 vote. More information on the challenge, as well details on the development of Atala PRISM, can be found at the link provided: https://cardano.ideascale.com/a/dtd/Atala-PRISM-DID-Mass-Scale-Adoption/350613-48088#idea-tab-comments