Over the past months, development activity across the Cardano network has topped the charts several times. The constant uptick in development activity is a testament that multiple teams are actively contributing to different projects across the ecosystem. Day by day, Cardano developers remain committed to creating products, upgrading released features, and working towards the long-term roadmap. This diverse, long-standing, and vibrant community building on-chain leads to a stronger blockchain where every participant has a chance to enact positive change within the ecosystem.
In this article, we'll provide a spotlight on the Cardano developer community, highlighting some of the achievements, challenges faced, and opportunities available. We'll also provide some resources and platforms where interested developers can contribute to the ecosystem. Let's dive straight in.
Who Makes Up the Cardano Developer Community?
One of the key aspects of Cardano is its active and diverse developer community, which consists of individuals and organizations from various backgrounds, disciplines, and regions. The community is driven by a shared passion for innovation, collaboration, and social impact. Both individuals and teams contribute to the development of the Cardano platform and the creation of applications and solutions that leverage its capabilities. This includes creating applications, tools, libraries, smart contracts, and other projects that use or interact with the Cardano blockchain. Some developers are affiliated with entities such as IOHK, Emurgo, Cardano Foundation, stake pool operators, dApps or platforms, while others are independent or hobbyists. The community is also diverse in terms of geography, background, experience and skill level.
According to a survey conducted by IOHK, the Cardano developer community has grown significantly in the past year, reaching over 10,000 developers across 120 countries. The survey also revealed some interesting insights into the demographics and preferences of the developers, such as:
The majority of the developers are male (87%), between 25 and 44 years old (72%), and have a bachelor's degree or higher (77%).
The most popular programming languages among the developers are JavaScript (51%), Python (44%), Java (32%) and C# (31%).
The most common use cases for developing on Cardano are DeFi (39%), NFTs (35%), gaming (28%) and identity (27%).
The most preferred development tools are Plutus (49%), Marlowe (32%), Glow (18%) and IELE (16%).
The most cited challenges for developing on Cardano are lack of documentation (42%), lack of tutorials (38%), lack of tooling (36%) and lack of support (34%.
A Closer Look at Some Notable Community Achievements
The Cardano developer community has been very active and productive, especially since the launch of smart contracts on the Alonzo hard fork in September 2021. According to the latest weekly development report at the time of writing (Oct 6, 3023), 1288 projects are building on Cardano.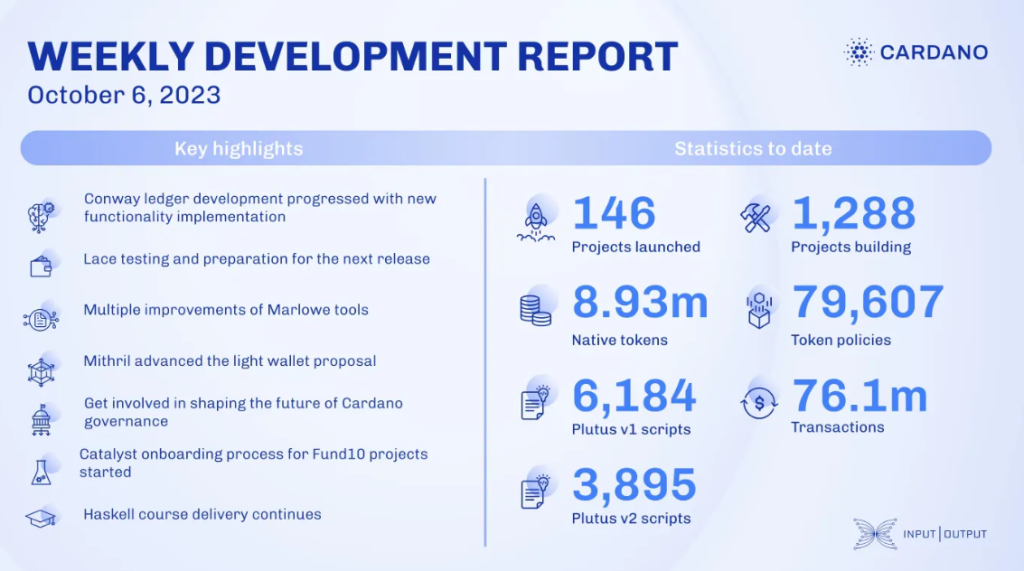 Besides these latest development updates, the Cardano developer community has made notable achievements and milestones over time, including:
Creation of over 2,000 dApps on Cardano, ranging from DeFi protocols, and NFT marketplaces to gaming platforms, social networks, DAOs, and more. Some examples are SundaeSwap, Minswap, AdaPunks, Pavia, Spores, and Project Catalyst.
Deployment of over 10,000 smart contracts on Cardano using various languages and frameworks such as Plutus, Marlowe, Glow, and IELE. Some examples are Liqwid Finance, ADAX, ErgoDEX, Maladex, and OccamFi.
Minting of over 1 million NFTs on Cardano, using native tokens and metadata standards such as CNFT.io, Spacebudz, Claymates, and Hoskisons.
Development of over 100 tools and libraries for Cardano, such as wallets, explorers, APIs, SDKs, and plugins. Some examples are Yoroi, Daedalus, Nami, cardano-graphql, and cardano-rosetta.
Contribution to over 1,000 pull requests and issues to the open source repositories of Cardano, such as Cardano-node, Cardano-wallet, and plutus-apps.
The participation of over 20,000 developers in various educational and training programs for Cardano, such as Plutus Pioneers, Marlowe Academy, Glow School, and IELE Academy.
The involvement of over 30,000 developers in various community and networking events for Cardano, such as hackathons, meetups, webinars, and conferences.
How to Join or Contribute to the Cardano Developer Community
If you are interested in joining or contributing to the Cardano developer community, there are many resources and opportunities available for you. These include:
Participate in the Ongoing 2023 Developer Survey
The State of the Cardano Developer Ecosystem survey, 2023 edition, is now open for developers across the community to participate. This survey enables the Cardano Foundation to assess the current technical landscape and identify gaps across the ecosystem. Through the survey, the foundation and those building on Cardano will better understand the developer community, the tools they use, potential pain points, and opportunities for improvement.
The Cardano Foundation encourages everyone building on Cardano and the open-source community to support the advancement of the ecosystem by completing the 2023 developer survey. It goes a long way towards strengthening the foundation's commitment to supporting developers and empowering the Cardano community with the tools everyone requires to flourish.