TL;DR:
🔵 The Profila App gives you control over (the use of) your personal data, compensates you for watching paid adds (if you opt in) and helps you combat misuse of your data by organisations on the internet.
🔵 Profila received funding by the Cardano community as part of Project Catalyst Fund 5 and 6 to integrate Cardano's native assets, blockchain, and other technology such as Atala Prism's digital ID in to its existing centralized app, as part of its roadmap to decentralization.
🔵 On 22 November 2021, Profila created 500.000.000 Cardano-native tokens called "Zero Knowledge Token", short "Zeke" or "ZKT", which are crucial in its decentralized advertising system called "Zero Knowlegde Advertising"
Introduction
In this first introduction article about Profila, we talk about the most general questions you may have in relation to our project. We will shed some light on the problems we solve, the solution we propose, as well as our choice of Cardano and funded Catalyst projects. We will also briefly talk about the team that has been working on Profila since 2018, and the roadmap that the team is working on. Finally, we briefly talk about our own Cardano-native token called "Zero Knowledge Token", short "Zeke" or "ZKT", and our upcoming public token sale.
What Problems is Profila Solving?
The more you use the web and apps on all of your devices, the more your personal data grows. This is because each of your digital activities is tracked and recorded. Each time you visit a website, watch a video, like a post on social media, fill out a form or buy a product or service online, personal data about you is collected and shared with brands that will use it to advertise to you about their own products and services. They decide which channel to use and how frequently you will receive their messages. Essentially, you have no control over your personal data or how its is used.
That is largely because people lack the tools to give brands clear instructions about the frequency of interaction, the channel of preference, and the content of choice. There is a need to level the playing field, to bring people on the same level of technical maturity as brands, to make this exchange of information consumer-consenting, and two-directional.
Profila's Solution
That is why we introduces our mobile app, which in essence is a new data, customer engagement and marketing platform, that is designed for people, to be used and controlled by people.
We designed our mobile app because you have the right to control who uses your data and for what purposes. That is why we created a tool to help you communicate with the brands in your life, who get to know you better, so they can provide you with a better service, that is personalized and ethical.
If you accept to connect to a company, you can determine the cadence of your relationship. You can allow them access to certain parts of your data and tell them how frequently they can contact you via which channel. If a company sends you commercial content (like an ad for which they normally pay facebook or google), you get 50 percent of the ad budget the brand pays. That's why we say "people are our partner and brands are our customers"; because we provide people with the tools to control the use of their data and get better value from their data.
Via the Profila app, you will be able to decide how brands can engage with you and regulate all the pipes of information that come to you. If you do not want to hear anything anymore from a specific company, or if a company uses your personal data in a way that goes against your expectations, you can use the privacy rights in the app to tell them to delete your information or to stop sending you marketing messages. This feature has all GDPR data subject rights baked into it and allows you in an easy 3-click process to tell a brand what to do. E.g., delete all personal data they have about you.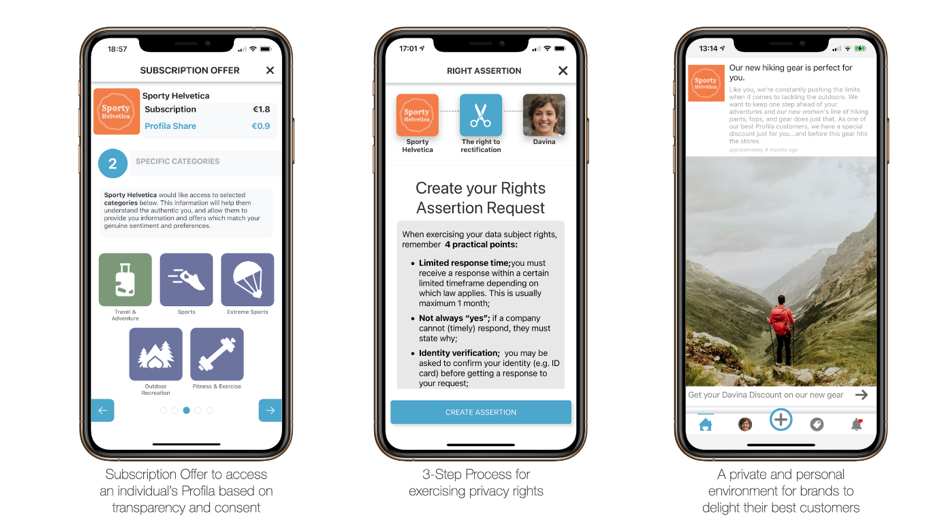 Why Cardano? Profila on the Road to Decentralization
Most of us will agree that Cardano doesn't really need an introduction, but we'll give it to you in under a minute anyway. Cardano is a public and open-source blockchain platform which is often referred to as a "third generation blockchain" that provides an efficient alternative to the standard proof of work (POW) networks, by introducing proof of stake (POS) to validate transactions. It thereby solves specific scalability and sustainability issues inherent to first and second generation blockchain such as Bitcoin or Ethereum, as proof of stake systems minimizes the energy needed to facilitate a blockchain system. Cardano is founded by Charles Hoskinson, who is also one of the co-founders of Ethereum. Profila had a chance to meet him in Capetown in October 2021, as well as the rest of the IOHK leadership team, and present to them what we have been working on at Profila.
Before we discuss our choice of Cardano, we want to clarify that Profila today is a centralized application that has decentralized functionalities. This means that the entire mobile application is not in full running on the Cardano blockchain (as a full DApp), but instead largely on Microsoft Azure. However, many of the crucial functionalities in the mobile application that help people control their data and get better value from sharing it, are integrated (or currently being integrated) with the Cardano blockchain. In addition, Profila is integrating decentralized ID functionality from Atala Prism, and working on a CNFT use case for customer created content (more on that below).
We are currently working on several use cases built on the Cardano blockchain because we believe in its enormous potential. These use cases concern personal data shared by you as an individual with a brand you connect to, as well as the instructions that you give these brands. Each time a piece of data is shared, or each time you tell a company how to use (or not use) your data, you instruction hereto is hashed (meaning encrypted) and saved on the Cardano blockchain. This way, you have immutable proof of what happended, the terms under which you shared data. In case a brand misuses your info, shares it with other parties, keeps it longer than agreed, or uses it for other purposes than included in that initial agreement, you have black/white immutable proof of what happened.
We choose to work with Cardano because of many reasons, one of which being the community support we have received so far. 4 of our Cardano-integration projects have already received funding by the Cardano community as part of a decentralized venture capital fund called "Project Catalyst", which is administered by the community.
Our choice for Cardano is of course also technical.
As a third generation blockchain it less expensive to transact on Cardano than other chains. This allows it to scale globally with minimum energy consumption, solving one of the biggest issues in the current blockchain ecosystem. The costs involved in a transaction depend on the size of individual transactions. However, the average costs are generally more friendly than Ethereum.
Cardano is also fast. It is capable of processing over 1.000 transactions every second (TPS), proving faster than Ethereum, which supports only 20 transactions per second for now. In the future, the Cardano network could potentially support 1 million TPS (pending an upgrade to the blockchain platform called Hydra).
We believe the Cardano blockchain is best suited for Profila's low value and high-volume transactions. On Profila you get compensated for granting access to your data (50/50) and you receive 50% of the advertising spend when you opt-in for paid content from brands (unlike platforms such as facebook and Instagram, where only the platform gets paid by brands to deliver you ads). Because Profila pays out people for viewing adds, we will have millions of transactions per day, all of a low value. The price of an add can range from cents to a couple of EUR, but rarely higher. Cardano will allow us to effectively deploy our ad-delivery model on blockchain.
The Profila Roadmap
We have been building our platform since 2019 and today we have a mobile app in Apple Store and Google Play store that is fully functional.
One important part of our roadmap is our integration into the Cardano blockchain for crucial privacy and data sharing features, in addition to the integration of Cardano's decentralized ID solution called Atala Prism. We have recently received funding for this project and are now scoping the technical requirements with IOHK, the commercial company behind Cardano.
A link to our funded proposals can be found below. We also explain these proposals in much more detail in our articles on Medium "Project Catalyst" available here.
In addition, we are building out one of the most crucial solutions in our platform, which is a privacy preserving alternative AdTech solution called "Zero Knowledge Advertising". With ZKA, we are building a replacement for third party cookies, where we can still guarantee personalized advertising delivery without the need to share an individual's personal data with the advertiser. We have finished our research paper called "Zero Knowledge Advertising: a new era of privacy-preserving AdTech solutions" with the Carlos III University of Madrid and are now actually building this solution, which is accessible on our website here.
Finally, we also created our own Cardano-native token called "Zero Knowlegde Token" (see here). Zeke tokens will be used as reward instrument to increase the user base and incentivize people to learn how to work with key (privacy) features that form part of this new AdTech ecosystem. It will also be used as payment instrument to compensate people who opt-in to receiving ads. Profila currently splits the ad revenue 50/50 with each profila user. However, if you choose to be paid out in ZKT, you will receive 60-70% of the ad budget (instead of 50% in case of fiat payouts). ZKT token will then be used for these high-volume, low-value instant payouts. ZKT will further compensate internet users who participate in this decentralized ad-delivery system for helping each other keep their identities (IP addresses) anonymous (through peer-to-peer technologies) and will help to identify and reduce Ad fraud (through audit trails) and the misuse of personal data online by businesses.
ZKA and ZKT in Project Catalyst Fund 7
Under the follow up project called "anonymity and data control with ZKT", Profila is asking the community for funding to integrate the zero-knowledge token into its existing app and other Cardano-blockchain integrations.
Profila's proposal, and 100s of other Projects, can receive your vote between now and 24 January 2022. Profila already received great scores from the community advisors (average 4,8/5).
All Cardano owners can download the Catalyst voting app and look for the following projects to vote on:
ZKT Token Sale information
From the 500.000.000 ZKT that have been created by Profila on 22 november 2021 ("ZKT Creation Date"), a maximum of 20% will be offered to the public (5% private round, 5% early-backers round, 10% public round); 40% will be allocated to a user incentive pool which will incentivize Profila users for certain activities on the platform and within the ecosystem; 15% will be allocated to the team and existing shareholders; 5% will be reserved for service providers and advisors and 20% for future marketing activities.
The ZKT Sale started on 29 November 2021 (start private round) and consists of 3 separate rounds, namely a private round (until early February 2022), an early backer round and a public community round. The price of 1 ZKT will be 0.15 EUR during the public round, 0.125 during the early backers round, and 0.10 during the private round.
Both the early backers round and the community round are foreseen to take place at in Q1 of 2022. People who are interested to take part in the public round can already join our newsletter and whitelist here.
Who is the Profila Team?
The concept of Profila came from Shawn Jensen, South African born who lives in Switzerland.
Shawn and Michiel Van Roey met in Geneva in October 2017 after being linked on AngelList. Michiel was working for the European Center for Nuclear Research in Switzerland and Shawn was looking for a co-founder with experience in legal and privacy.
Michiel and Shawn started working together quickly thereafter and were joined by Profila's current chief product officer Luke Bragg. These 3 are considered the co-founders and have been working for almost 4 years together. Shawn is from South Africa, and Luke from the US, both living in Switzerland. I am from Belgium and living in Brussels.
The Profila team today counts over 20 people in different roles and levels of engagement.
There is of course the core team of 10 people, from 10 different nationalities, and cover legal, product, marketing, technology, operations etc. But we also have 5 full time developers working under our CTO, several sales people, and a board of 5 experienced advisors with relevant experience in the crypto, AdTech, and privacy space.
We were recently also joined by 5 community managers, from the US, Ireland, Nigeria, Pakistan, India, who are responsible for engaging with and responding to our community 24/7.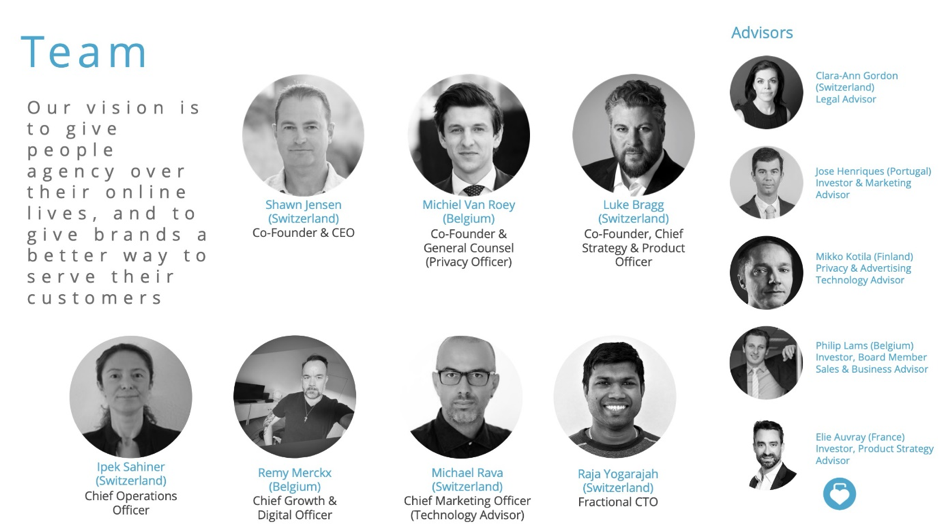 Feel free to join the Profila community on:
👉 Discord
👉 Telegram
👉 YouTube
👉 Twitter
👉 Linkedin
💙Learn more about Profila for consumers and brands
Disclaimer: This was a guest post from the Profila team published by Adapulse. Adapulse is not affiliated with this project nor paid to promote it.