MeowSwap, a Decentralized Exchange (DEX) building on Cardano, announced on Social Media they'd be partnering with Occam Finance to conduct an Initial Distribution Offering (IDO) on Occam's Launchpad.
Another exciting development in the rapidly evolving Cardano ecosystem. However, there's just one issue. What's MeowSwap?
Layer 2 DEX?
In a recent Medium post, the DEX describes itself as:
a Layer 2(L2) decentralized exchange solution that uses Layer 1(L1) for secure storage of assets whilst taking away the computational load from the L1 networks. It's the best of two worlds offering users the security of L1 based DEX's, and the speed that nearly matches CEX systems.

https://medium.com/meowswap-fi/a-deep-dive-into-meowswap-cutting-edge-technology-401fdd4a830b
MeowSwap's reasoning behind building a L2 DEX is that it creates more of a real time trading experience and offers the ability to create traditional trading functions that aren't currently available. It's important to note that L2 solutions tend to lean more in a centralized nature and MeowSwap doesn't seem to be an exception at this point:
MeowSwap combines proprietary L2 scaling technology in conjunction with our DEX to finally offer the only working trading solution fully running on Cardano.

https://docsend.com/view/xqm2rezqqjrpn9kg
MeowSwap Team
Currently, information on the MeowSwap team is limited but the graphic below shows four team members building out the DEX.

The lack of information on the team doesn't instill much confidence but there does seem to be a scheduled AMA (Ask me Anything) with Elliot Hill, the Head of Communications at Occam Finance and MeowSwap's Founder, Gleb Niktin.
The AMA will take place on the 8th of December at 1400 UTC. Tune in if you'd like to hear more from the one of the developers at MeowSwap.
Tokenomics
MeowSwap plans to conduct an IDO on the OccamRazer Launchpad on the 10th of December. The MeowSwap one pager states the IDO will offer a total of 2 million MeowSwap tokens which is 2 percent of the total supply. The tokens distributed from the IDO will initially reside on the Binance Smart Chain. As OccamRazer currently only allows BEP20 and ERC20 tokens as the distribution methods on their launchpad.
The MeowSwap one pager also outlines the DEX may have already conducted or will be conducting other rounds for funding; Both a seed round and a private round. Looking at the chart below, the seed round will encompass 5 million tokens or 5 percent of the total supply and the private round will allocate 6 million tokens or 6 percent of the token supply.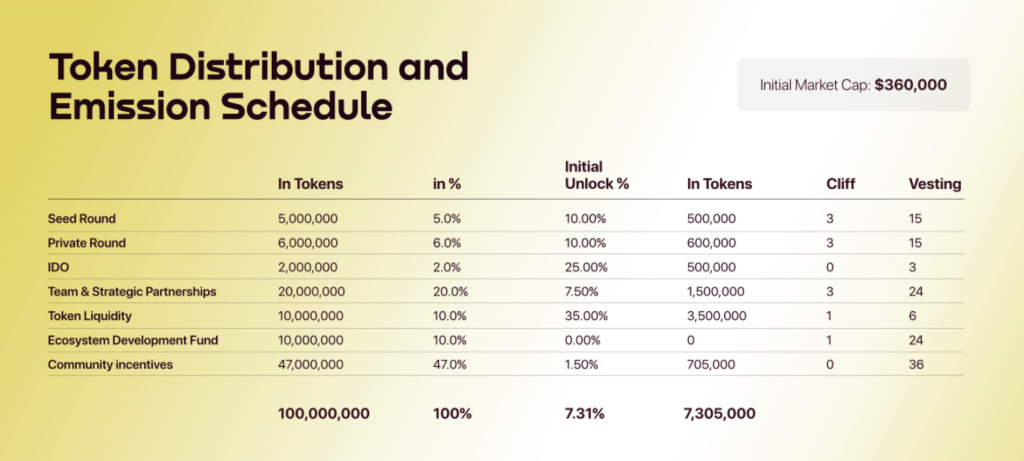 Other noteworthy token distributions on this graphic are the 47 million tokens for community incentives and another 10 million for the Ecosystem Development Fund. There isn't much specifics on these token allocations but it is a sizable amount of tokens to be distributed amongst the Cardano ecosystem.
Final Thoughts
MeowSwaphas seemingly garnered a decent amount of momentum with the first partnership announcement with Occam Finance and another with CardWallet.
As the Cardano ecosystem begins to take shape, MeowSwap looks to position itself to be a contender as they continue to align themselves with some of the more prominent projects within the community.
Adapulse will be keeping a close eye on further developments from MeowSwap as more information becomes available.