Last month, Cardano's Africa Special made headlines announcing plans to onboard five million Ethiopian students. adapulse.io covered the nearly two-and-a-half-hour event and the attention-grabbing initiatives involved. In short, the special unveiled strategic partnerships with the Ethiopian Ministry of Education and technology infrastructure company World Mobile. Both alliances aim at harnessing the bleeding edge engineering underpinning Cardano to modernize the infrastructure of the continent.
Alonzo
This month, Cardano360 directed the spotlight towards the technical roadmap and recent milestones. Chief among them is the Alonzo – Plutus hard fork combinator event scheduled for September. The development will mark the integration of the Plutus scripting language into the blockchain and the rollout of long-awaited smart contract functionality. Smart contracts will allow enterprises to provide comprehensive, professional services using the protocol.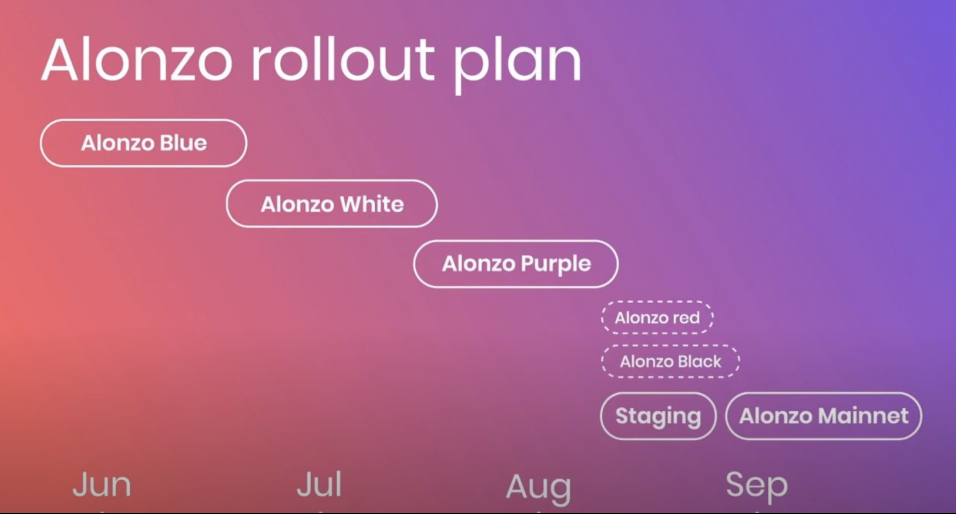 The rollout cycle consists primarily of three phases. Currently underway, the Alonzo Blue testnet:
involves a small group of stake pool operators, Cardano partners, and Plutus Pioneers
is focused on basic functionality
will showcase simple smart contracts
Alonzo White begins later this summer. It will:
be available to a broader subsection of the Cardano community
add core functionality and allow for live product testing
feature demo Dapps
incorporate the wallet backend
facilitate benchmarking
Finally, Alonzo Purple will:
focus on optimization
incorporate a greater portion of the community, including all 1,500 Plutus Pioneers
focus on real-world use cases
bring in exchanges
be complete with documentation and exercises for developers
Alonzo Purple will be followed briefly by Alonzo Red and Black, and the hard fork combinator event will conclude the mainnet rollout, most likely in September of this year.
A lot remains to be done over the coming months. Fortunately, strategic commercial partners are helping to ease the burden. Highlighting a few, MetaLamp works on fintech backend solutions ranging from web services to large-scale Haskell projects. ELEKS is a technology services company that provides blockchain-based services to high-profile clients. Similarly, AltLabs is a small group of developers focused on distributed systems like distributed ledgers and blockchains.
Plutus & Marlowe
Of course, Alonzo is exciting, but what does the upgrade truly represent for the Cardano ecosystem? An answer can be found in the origins of the hard fork's name. Alonzo Church was an American mathematician credited with discovering lambda calculus on which functional programming relies. As a functional programming language based on Haskell, Plutus heavily incorporates the principles described by Alonzo Church.
Functional languages like Plutus and Haskell are an easy match for market-leading blockchains like Cardano. These languages can be mathematically verified to ensure security and proper execution. As such, they provide greater rigor to mission-critical smart contract code.
There is, however, a steep learning curve. The Plutus Pioneer Program, headed by Lars Brünjes, is working to orient hundreds of developers eager to overcome just that. Despite a challenging curriculum, Lars reports the program is buoyed by the enthusiasm of over 1,500 students, many of whom are keen to build on the Cardano blockchain.
Other solutions are also underway for less tech-savvy community members interested in smart contract solutions. Marlowe is a product suite based on a domain-specific language intended to streamline financial contracts and products. Marlowe is easy to read, and its design limits costly errors. Seeing is believing, of course, and Senior Research Fellow Simon Thompson demoed Marlowe Run, a simple loan smart contract using a browser application, during the May 2021 update.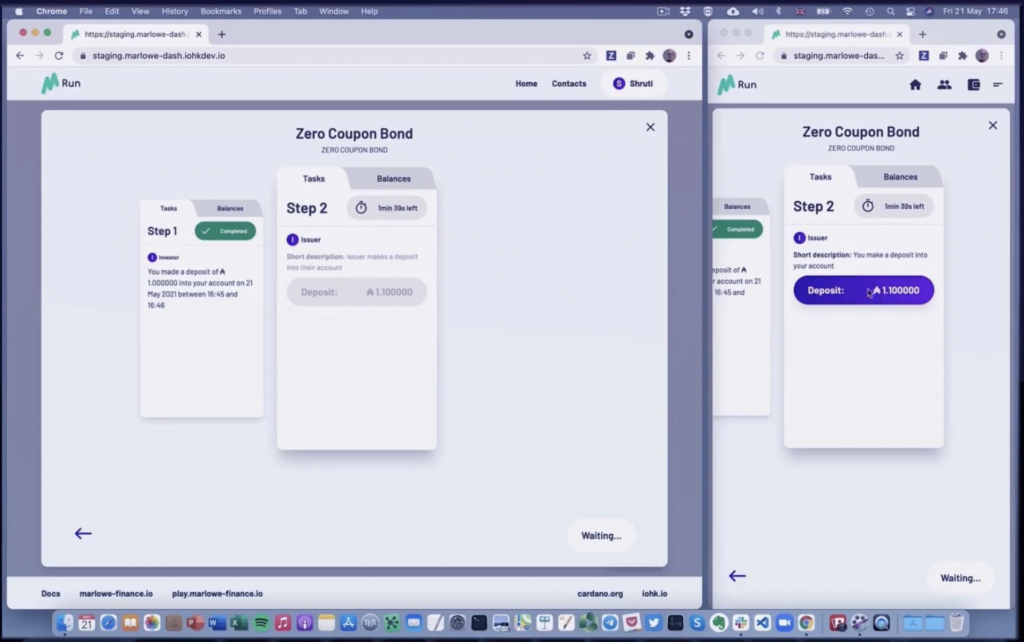 Hydra
Blockchain technologies are poised to disrupt the financial system and society as a whole. That is if they can be extended to include the billions across the globe leading unbanked or underbanked lives. Issues around scalability—a buzzword with which many are well-acquainted—have tempered the ambitions of other blockchain projects.
Cardano's answer is Hydra, a scaling solution mainly based upon partitioning and payment channels. Technical Architect Manuel Chakravarty explained:
"Generally speaking, public blockchains have a limited capacity to process transactions. This is true of the number of transactions they can process per second and also true in terms of the size of transactions. This is because all of these transactions are stored on the blockchain and have to be downloaded by others."
Manuel continued, explaining how ongoing research into Hydra will support Cardano as it grows:
"Specifically, Hydra is a layer two solution which means, instead of modifying the actual layer one blockchain, it will be implemented using a Plutus smart contract. The advantage of that is two-fold: we can develop more quickly, and we won't have to change the security-sensitive parts of the blockchain."
If successfully implemented, the Hydra protocol could allow the Cardano blockchain to process transactions faster as it grows—up to a theoretical maximum of a million transactions per second—while simultaneously reducing fees.
Catalyst and the SingularityNET Partnership
The pace of progress is rapid. Yet, the developments mentioned so far revolve around IOG and partners. Project Catalyst, headed by Dor Garbash, allocates funding in a decentralized manner to entrepreneurial community members. In the 360 update, Dor noted that 314 developers, 132 entrepreneurs, and 6 Dapps are active. Furthermore, 25,000 members are participating in the Catalyst IdeaScale. The IdeaScale is on track to reach 100,000 participants by the end of the year.
On the other hand, AI partner SingularityNet has made strides with the IOG team on an ERC20 converter. This project provides a seamless link between the Cardano and Ethereum ecosystem. According to project Manager Francisco Landino, the partners have been working hard to form this bridge. A demo of the converter in action shows that this is indeed the case.
adapulse.io recently covered the ERC20 in greater detail here. More information on the other items covered in this article is available in the Cardano360 May update available on YouTube.